Herken je dit? Ogen priemen. Naar jou. "Psst, da's die nieuwe." Je was aardig voorbereid op deze eerste werkdag bij je nieuwe werkgever. Dacht je. Maar je voelt je toch wat ongemakkelijk zo op het kantoor, in de winkel, de fabriek, het ziekenhuis. Of misschien nog erger. In je eerste online vergadering. Maar gelukkig. Als de nood hoog is, is de buddy nabij.
Het blijft toch een vak apart. Dat inwerken van nieuwe medewerkers. Uitgebreide Onboarding programma's worden ervoor samengesteld. En dat is maar goed ook. Want uiteenlopende verwachtingen, onzekerheid en het ontbreken van relaties zijn de belangrijkste oorzaken van een vroegtijdig vertrek. Liefst 25% zegt hun zuurverdiende contract binnen een jaar op (Verhoeven 2015). Dat kost geld en levert wederzijds frustraties en tijdverlies op. Een buddy kan heel wat leed en vroegtijdig vertrek voorkomen. Hoe zit dat?
De buddy is je eerste vriend(in)
Een buddy neemt onzekerheid weg, geeft een vertrouwd gevoel en kan wederzijdse verwachtingen in goede banen leiden. De buddy staat vanaf dag 1 voor je klaar en zorgt dat je je direct thuisvoelt. Het is een collega van wie je een gewoon antwoord krijgt. Ook op pijnlijke vragen. Bijvoorbeeld omdat je na drie keer proberen nog steeds niet weet hoe de koffiemachine werkt. Of je bent vergeten wie de leidinggevenden ook alweer zijn. Dat deze eerste 'vriend' of 'vriendin' op het werk belangrijk is, is uit onderzoek gebleken.
Harvard researched it
Harvard Business Review deed onderzoek naar het belang van Buddy's bij onboarding programma's. Voor de buddy's op deze aarde was de uitkomst bijzonder positief. Hun rol is cruciaal. Want naast dat de nieuwe collega zich welkom, veilig en thuis voelt, blijkt dat 'newbees' met een buddy meer tevreden zijn over hun Onboarding en zich sneller productief voelen. Goed voor de nieuwe medewerker én goed voor de zaak. Maar niet elke collega is voor het buddy vak geschikt. Kies ze zorgvuldig.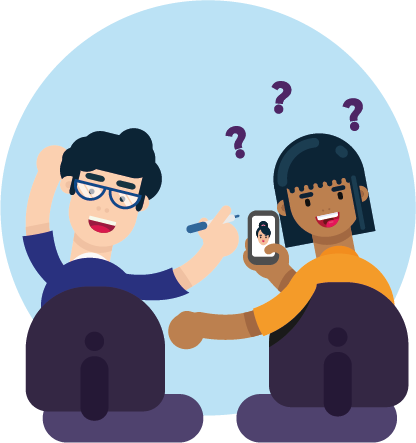 Hoe selecteer je buddy's?
Als Eerste Hulp Bij Onboarding voorkomt de buddy ongelukken. En je weet, voorkomen is beter dan genezen. Maar wat maakt een buddy dan een goede buddy? Uit onderzoek weten we wat de ideale eigenschappen van een Onboarding Buddy zijn. Welke? Leer meer in het blog: Zo vind je de ideale Onboarding Buddy. En heb je de ideale buddy gevonden? Dan wil die natuurlijk voorbereid zijn op zijn of haar taak. Hoe je dat doet, lees je in het blog: Het Onboarding Buddy Preparation Program. Het wat?
An automatic notification
Would you like to receive an automatic notification when our next onboarding blog is available? Follow us on LinkedIn.
---
More about onboarding